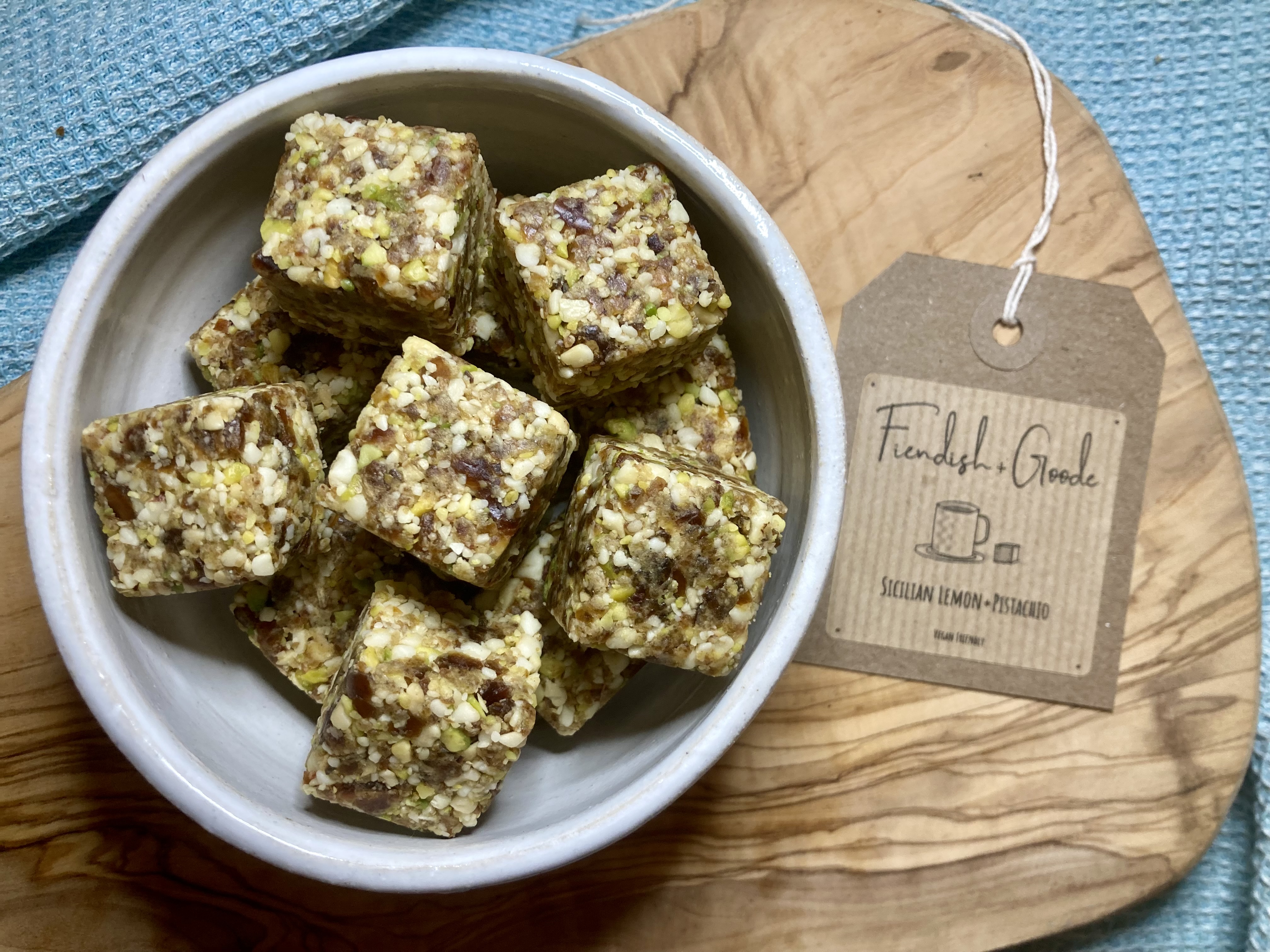 Believe it or not, Fiendish + Goode was originally founded in 2010, and specialised in multiple Great Taste Award winning miniature cakes and treats. The company ran successfully for six or so years, operating from some of London's top markets, and were stockists of renowned London department store Selfridges, and Whole Foods Market, Piccadilly. In 2016, co-founder Franki, the brain child behind the baked goods, wanted to step away to take a break and explore other things, and because of the personal nature of the company, it was put on hold.
Forward six years and Fiendish + Goode was reborn, and with a new stance! 
Due to a shift in diet for Franki, dairy was out, and an interest in a simpler way of creating had become apparent. Minimal processes and ingredients used, but with a big impact! Here is how the little cube shaped Morsels came about..
It was nearing 11am - elevenses. This meant one thing for Fiendish + Goode founder Franki. It was cortado o'clock, and to accompany it, a single date stuffed with toasted walnuts. Franki would assemble these in her south London home with some carefully sourced dates, wrap one up and take it to work. When the time came, she would embrace the ritual of preparing a coffee in her favourite little cup, and then take a long slow minute to seriously enjoy the simplicity that was just a couple of mouthfuls of a lovingly prepared treat, all the while enjoying the satisfaction of knowing that although it was super sweet, unmistakingly moorish, and delightfully delicious, it was also very much a guilt free indulgence. 
In love with her mini morning treat, and being a natural creative and food lover, Franki saw some potential, and wanted to develop the idea further. Through experimentation with some of her favourite flavour combinations, and a bit of trial and error, these perfectly formed, tasty little cube shaped Morsels were born!
Smacking some serious flavours to accompany your morning coffee, afternoon tea or however which way you fancy, these tasty Morsels really are a delightful addition to well, anything! Simple, yet so satisfying and vegan friendly :)
We are currently wholesaling our cube shaped Morsels to the coffee shops of London, and will be selling them direct from our web shop very soon!